The ability to create and distribute reporting visually offers journalists and newsrooms dynamic ways to engage their audiences. It's a growing necessity given the visual economy of today's world.
"We're all competing and communicating in a space where everything has a visual component," said Jonathan Harley, the head of global strategic partnerships at Canva during a session at the Online News Association conference in September. "The key thing for journalists is that you're not just competing with other news brands, you are competing with every brand because every brand is a content business."
Creating visual content used to require subscriptions to several platforms that only professional graphic designers could navigate. Graphic design apps like Canva make content creation accessible to everyone.
Canva in the newsroom
More than a year ago, USA Today began using Canva to create more visual content on their Instagram.
"[Since switching to Canva] we've been able to get to market so much faster, and our audience was there for it," said Elizabeth Shell, the creative director for audience at USA Today. "They were really responding to how quickly we were able to share the news and tell them the news in an engaging, social-first, visual way."
Australia's fastest growing youth media company, The Daily Aus, also benefited from using the graphic design tool. With an aim to "meet young news consumers where they're at" through short-form news on social media, the outlet reaches 1.4 million readers monthly.
"Our entire operation is built on Canva. We started as Canva templates, but now we do everything on Canva — our copywriting, our podcasts, videos and TikToks," said Sam Koslowski, co-founder of The Daily Aus.
Here are some features both newsrooms have found helpful when creating content on Canva:
Brand kits and controls
Newsrooms can create brand kits to keep track of the logos, colors, fonts and templates they use when creating content. This can help ensure consistency across posts. The brand controls can also restrict the fonts and colors available to better avoid inconsistencies.
"I [wanted] to make sure that when you see something out on social or off-platform that's from USA Today that it looks like it came from USA Today," said Shell.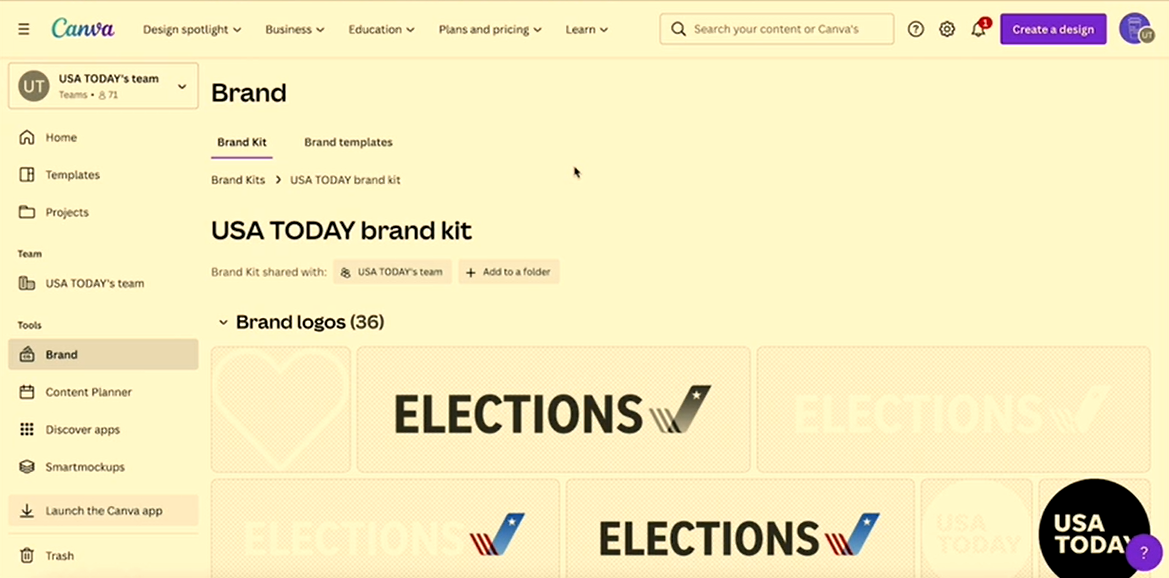 Fonts
In addition to the numerous options already available on the app, Canva allows you to upload as many additional fonts as you want.
Keep font size in mind, too: when designing posts with text, Kowslowki suggested not going below 32. "Our journos write straight into the slides [on Canva] and they know they can't go below 32 in font size because then it's too small to read," he said.
Images
The Daily Aus adds "glow"  behind images from which they removed backgrounds, to add depth. They also will take a blank side, apply a color to the background, and add an image but fade it to give the image a hue.
"We've got our photo library in there," said Koslowski. "We work with the Australian Associated Press; we're subscribers to their photographs and we just download them straight into Canva and off you go."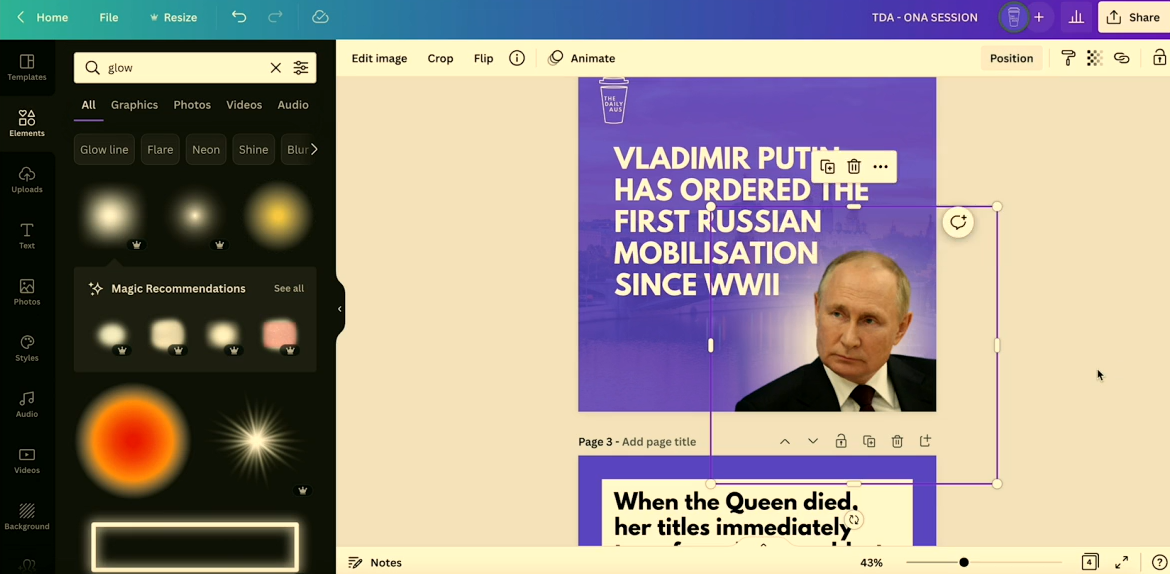 Features
While the number of stock photos, templates and design types Canva has available varies based on subscription, the free package includes more than 250,000 templates, 100+ design types (social media posts, letters, etc.) and over 1 million graphics.
In September, the platform launched the Visual Worksuite, which includes a series of tools to help teams collaborate to create professional content.
Some tools included in the Visual Worksuite are:
Canva Docs: a visual-first document creator, which allows users to take basic word documents and make them more engaging by incorporating graphics, videos and charts into the document. In December, Canva released Magic Write, an AI-powered copywriting assistant for Canva Docs that generates suggestions based on user prompts.
Subscription plans
The tool is broken down into three subscription plans:
Canva Free is free of charge and is recommended for anyone interested in learning how to design graphics.
Canva Pro costs $119.99 per year The package is designed for freelance designers and individuals who wish to have unlimited access to premium content and to design professional graphics. This package can only be used by one person.
Canva for Teams includes all of the features of the Canva Pro package but also allows for teams to collaborate while creating different designs. This package costs $149.90 annually for up to five people.
Nonprofits can receive free access to the tool's premium features through Canva for Nonprofits.
Source: https://ijnet.org/en/story/tips-journalists-using-canva