Developments in technology have forced newsrooms to find new ways to keep their audiences engaged. In broadcast news, this means many outlets are experimenting with how they present their content to capture viewers' interest.
The broadcasting industry is also navigating additional challenges such as the rise of online streaming platforms, like Netflix, and competition for advertising revenue as brands shift from advertising on TV to social media advertising.
For example, data from Ofcom indicates that in the U.K., video streaming services such as Netflix and Amazon Prime now have more users than traditional pay TV services, implying that British TV will have to change its business model in order to compete with streaming platforms for customers.
In order for journalists to adapt to these challenges, they need to be equipped with free open-source broadcasting solutions, according to Malawian media entrepreneur Mallick Mnela.
Open-source software, in which the software code is open for users to change, use or distribute as they see fit, is designed for free use, Mnela explained. "Peer review and community production are used to create open-source software in a collaborative and decentralized manner," he said.
After working for 16 years at Malawi's Zodiak TV station, Mnela launched a YouTube channel called Thrifty Broadcasts in 2021. The channel promotes the development of open-source broadcasting, to teach African journalists how to create their own news shows on a budget.
He was inspired to start a YouTube channel to share low-cost resources after recently taking part in Wits University's Jam Lab Fellowship and Westminster University's Chevening Fellowship.
According to Mnela, some broadcasters in Malawi have been in touch with Thrifty Broadcasts for technical support, product demonstrations and recommendations for low-cost equipment: "Thrifty Broadcasts gives low-resource media organizations the guidance, know-how and skills necessary to compete with high-end broadcasters across the continent."
Inexpensive ways to broadcast
One challenge Malawian broadcasters face is that they often use outdated broadcast technologies, especially when it comes to hardware such as encoders and broadcast cameras, Mnela explained: "I have observed that smaller broadcasters use older generic equipment, some of which is meant for CCTV. Technologies haven't been widely adopted because of the expense, knowledge and corresponding skills needed."
Upon recognizing this issue, Mnela searched for alternative equipment. He identified low-cost and free solutions that function similarly to the equipment larger newsrooms use.
For example, instead of hiring an OB van, which controls high-definition cameras remotely for broadcast and can be prohibitively expensive, journalists can interact in real time with studio presenters using their own smartphones and tablets.
Other budget-friendly alternatives Mnela suggests include the open-source video streaming protocol called Secure Reliable Transport software, which guarantees quality signal transmission.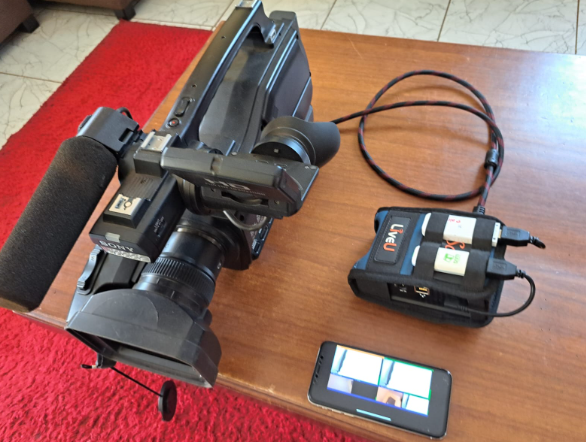 User-friendly open-source broadcast software
Today, several open-source broadcast softwares are freely available to journalists.
Mnela recommended using Tailscale for creating a network mesh, which is a wireless system consisting of multiple computers connected by a network; Larix Broadcaster for capturing and distributing audio-visual content from remote locations to studio; and OBS Studio for ingestion, production and distribution to radio and TV, or any content delivery network such as YouTube or Facebook.
These work best when used together, Mnela noted.
Outline of tutorials
Thrifty Broadcasts' tutorials suggest free solutions and basic resources to help media practitioners build better workflows.
"The tutorials are highly recommended for community radio and television broadcasters. While every effort is made to accommodate no investment at all, some investment in basic equipment helps improve outcome quality, reliability, technical support and ease of use," said Mnela.
The larger benefit of the tutorials, he explained, is that small media outlets can deploy the low-cost solutions through what is called Bring Your Device Broadcasting. "In this case, the source uses their already existing device and the signal is received at the studio. Similar systems are used as part of mobile journalism (MOJO) by bigger news broadcasters such as CNN and the quality is great," said Mnela, adding that the tutorials are inspiring curiosity about aspects of broadcasting that some journalists may have thought were impossible.
Mnela has high hopes for Thrifty Broadcasts; building a strong community of like-minded journalists will be essential to the channel's development in Malawi.
"I am aware that the TV industry may be receiving the most interest at the moment, but radio may also benefit," he said. "The 20 scripts I have written, which are divided into the categories involved in news collection, production and distribution, are based on our experiences. I will think about expanding the topics addressed as the channel gains popularity, and I will ask individuals who benefited from the tutorials to share their stories."
---
Photo by Steven Van on Unsplash.
Source: https://ijnet.org/en/story/youtube-channel-provides-low-cost-resources-broadcasters-malawi