A court in Myanmar has sentenced ousted leader Aung San Suu Kyi to four more years in prison, in the latest of a series of trials.
She was convicted for the illegal possession and import of walkie-talkies and breaking Covid-19 rules.
She has been detained since a military coup last February and faces about a dozen charges, all of which she denies.
Her trials have been widely condemned as unfair.
The charges in the latest case stem from when soldiers searched her house on the day of the coup by forces led by army chief General Min Aung Hlaing. The devices they say they discovered are presumed to have been used by her security guards, resulting in a conviction widely viewed as no more than a tactic to justify detaining her.
Monday's trial in the capital, Nay Pyi Taw, was closed to the media and Ms Suu Kyi's lawyers have been barred from communicating with the media and public.
Last month the Nobel laureate was found guilty of incitement of dissent and breaking Covid-19 rules, in what was condemned as a "sham trial" by UN human rights chief Michelle Bachelet.
In response to Monday's sentencing, Human Rights Watch called the legal proceedings a "courtroom circus of secret proceedings on bogus charges… so that (Aung San Suu Kyi) will remain in prison indefinitely".
The statement by the group's deputy Asia director Phil Robertson also accused the military of securing convictions "in a kangaroo court on the flimsiest, politically motivated charges", and said it was "running roughshod over the human rights of everyone, ranging from Suu Kyi… to the Civil Disobedience Movements activists on the street".
The military's seizure of power in Myanmar (also called Burma) last February came months after Ms Suu Kyi's National League for Democracy (NLD) won November 2020 general elections by a landslide.
The military alleged voter fraud in the victory, however independent election observers have said the elections were largely free and fair.
The coup triggered widespread demonstrations and Myanmar's military has cracked down on pro-democracy protesters, activists and journalists.
Ms Suu Kyi is one of more than 10,600 people to have been arrested by the junta since February, with at least 1,303 others killed in the demonstrations, according to the monitoring group Assistance Association for Political Prisoners.
The latest sentence brings her total prison term so far to six years, but were she convicted of all the charges she faces, she could spend the rest of her life in detention.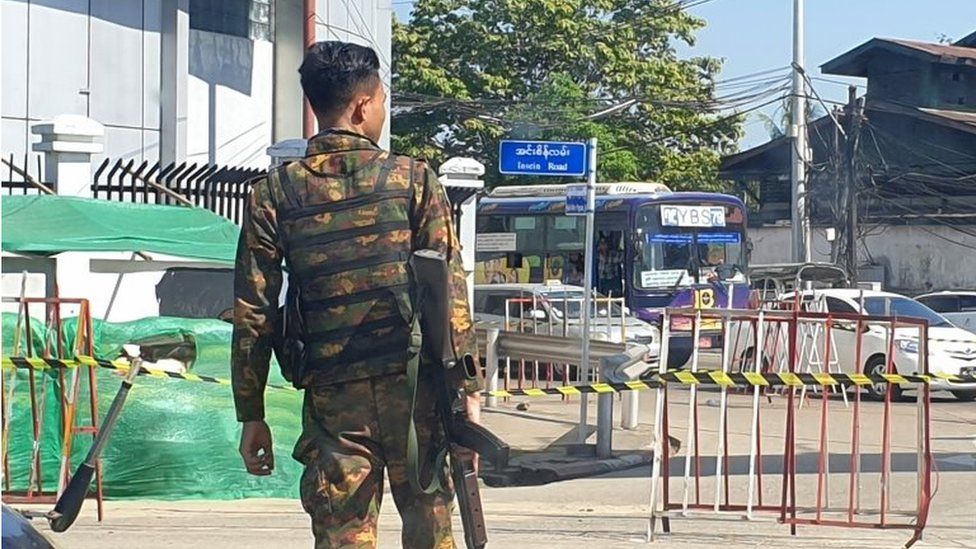 The 76-year-old, who has not been seen in public since her house arrest, still faces several more serious charges – of corruption, election fraud and breaking the official secrets act.
Whether she actually spends any time in jail depends on what the military wants to do with its most famous prisoner, the BBC's Jonathan Head says.
The ruling junta still faces widespread opposition; parts of the country are now engulfed in armed conflict, and the economy is near collapse.
Neighbouring countries are seeking a negotiated end to the conflict. So far they have made little progress, but if they do, our correspondent says it is likely such talks would at some point have to involve Aung San Suu Kyi, who remains very popular.
An icon who fell from grace
Aung San Suu Kyi spent nearly 15 years in detention at the hands of the military between 1989 and 2010, and was awarded the Nobel Peace Prize for her work to bring democracy to Myanmar.
Her party, the National League for Democracy (NLD) won a landslide victory in 2015, but she was prevented from becoming president herself by rules excluding those with foreign national children from holding that office. She was widely regarded as the de facto ruler of the country.
However her reputation abroad was severely damaged by the way she handled the Rohingya crisis, which started in 2017.
In 2019 Ms Suu Kyi appeared at the UN International Court of Justice (ICJ) to defend her country against accusations of genocide.
Source – https://www.bbc.com/news/world-asia-59933706
Image Credit – Reuters